Wind Release: Rasenshuriken

Kanji

風遁・螺旋手裏剣

Rōmaji

Fūton: Rasenshuriken

Literal English

Wind Release: Spiralling Shuriken

Type

Classification
Nature

Wind Release

Other jutsu

Parent jutsu

Users

Debut

Manga Debut
Anime Debut
Game Debut
Wind Release: Rasenshuriken (風遁・螺旋手裏剣, Fūton: Rasenshuriken) is a wind-based ninjutsu invented by Naruto. It is done by mixing wind chakra into the Rasengan and form it into four large points, causing the Rasengan to take on the appearance of a fūma shuriken, with the Rasengan in the centre remaining a perfect sphere.
Usage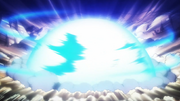 After colliding with a target, the central sphere of the Rasenshuriken detonates, producing a vortex of wind in the immediate area.
Improvement
Naruto later improved the Rasenshuriken with Sage Mode. This allows him to throw it at his opponents, and removes the restrictions of having to get in close-range of his opponent. The shuriken can also expand after it has been thrown, compensating for imprecise aim or fleeing opponents by widening the area of effect.
Ad blocker interference detected!
Wikia is a free-to-use site that makes money from advertising. We have a modified experience for viewers using ad blockers

Wikia is not accessible if you've made further modifications. Remove the custom ad blocker rule(s) and the page will load as expected.