Sasori

Kanji

サソリ

Rōmaji

Sasori

Characteristics

Gender

Male

Hair Color

Red

Eye Color

Brown

Status

Occupation
Specialization
Affiliation

Akatsuki
Sunagakure (former)

Media

Manga Debut
Anime Debut

Voice Actors

Japanese
English
Image Gallery
Sasori (サソリ, Sasori) is a member of the Akatsuki and the partner of Deidara.
Appearance
Sasori is shown as having red hair and brown eyes. He also wears the Akatsuki cloak, which is black with red clouds. His body is actually a puppet by itself.
Personality
Sasori shows very little emotional expressions, even when he is arguing with Deidara. He considers himself an artist and believes art is meant to last forever as something to carry on to the next generation. Since his views clash with Deidara they often bicker over the true meaning of art. He is shown to have very little patience.
Plot
In chapter 16 of the manga, Sasori and Deidara are the first to arrive at the hideout and encounter Lee and Tenten, who are infiltrating the group disguised as new recruits. Sasori and Deidara try to use them to settle their argument about art, which results in Lee and Tenten being attacked. The hideout is completely destroyed when the Akatsuki arguing breaks into a massive riot, allowing Lee and Tenten to escape. In the anime episode of these events, Sasori and the other members gang up on Deidara for not revealing that Lee was a spy.
In chapter 27 of the manga, the entire Akatsuki organization went on a summer vacation because Pain believed it could bestow unbelievable power. Sasori competed against Deidara in a sand castle competition. Though Sasori's castle was bigger, Deidara's could fire off explosions. Sasori then revealed his castle could turn into a robot. The two castles begin fighting, but the conclusion was not shown. Sasori was later seen with Deidara, Konan, and Pain playing a video game. Sasori left with Konan and Deidara after Pain refused to accept defeat. Sasori later gathered with everyone for a competition to see whose sparkler could stay lit the longest. Deidara got too close to Sasori and their sparklers fused together, causing Tobi to want his sparkler to fuse with Deidara's as well. Sasori's sparkler went out with Deidara's and Tobi's, causing Deidara to attack Tobi and ruin the competition. The Akatsuki decide to have a different kind of sparkler competition with their jutsu, destroying the beach. Sasori and the rest of Akatsuki noticed their skin had become darker and believed it was a sign of them becoming more powerful like Pain intended. They actually just got sunburned.
In episode 51, the Akatsuki teamed up with Sasuke to destroy the Leaf Village. Sasori's role in these events was not shown.
Abilities
Sasori is a puppet master and as such uses the puppets he creates as weapons. His puppets are made from dead ninja's bodies and he can actually use their jutsu when using said puppets.
Puppets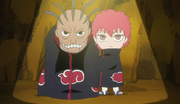 Hiruko
Third Kazekage
Sasori (Puppet)
Ninjutsu