Welcome






Welcome to the Rock Lee's Springtime of Youth Wiki, a wiki dedicated to everything about the anime/manga series, Rock Lee's Springtime of Youth, Rock Lee & His Ninja Pals, or Rock Lee no Seishun Full-Power Ninden that anyone can edit. Rock Lee's Springtime of Youth has been published in Saikyo Jump since 2010. Please help us by creating or editing any of our articles! We currently have 19,043 edits to 790 articles and 1,347 images on this wiki, since April 2, 2012.


Navigation

Administrators • Requests for Rollback Rights •

• Requests for Adminship • New Pages • Categories
Notifications
Apr 22, 2012: We commemorate our 100th article, thanks to everyone who contributed!!
Apr 30, 2012: This wiki became the redirected site of Rock Lee Wiki. So from now on, you can type rocklee.wikia.com to come here!!
May 26, 2012: We want to commemorate our 2000th edit!!
June 24, 2012: We want to commemorate our 2500th edit!!
July 2, 2012: This wiki became the redirected site of Rock Lee Springtime Wiki. So from now on, you can type rockleespinoff.wikia.com to come here!!
April 17, 2014: We want to commemorate our 1000th image!!
Characters
Random Chapter
"Paradise in the South Seas!!"
Team Guy prepares to leave on a mission and it is revealed that they plan to take a boat. Neji and Tenten wait at the port for Guy and Lee, but soon find the two attempting to pull the baot to their destination. Tenten scolds the two, reminding them that they were set to work with another team. Soon after, Team Kakashi appears. Kakashi explains that their teams will be monitering the oceanic areas. He explains further that ships have been disappearing from the areas from unknown causes, but reports have said that the compass begins to break and sailers are left with no sense of direction. Sakura and Tenten are shaken by the info, but Kakashi tells them that they will be fine, pointing out that he and Guy were their. However, the two are not persuaded, seeing how miserable Guy is on the boat. Guy insists he can still steer the boat, but the compass begins to break, and Guy soon falls over, Lee taking his place.

...Read more
Random Episode
"Episode 3"
A Competition with the Genius Ninja, Neji
After Lee defeats several enemy shinobi, he begins to feel as not even Neji could compete with his strength. However, the leader of the group appears and Lee begins to feel nervous, but the foe topples over, revealing Neji who had defeated him. Comparing his quantity with Neji's quality, Lee becomes saddened and lables his own achievement as inferior.

...Read more

Tenten's Must-Win Battle
While on a mission, Lee acts unsightly infront of Tenten, angering her. Tenten reminds him of the "Ladies first" phrase, but Lee and Neji fail to understand. Later, Tenten fights against several bandits as Lee and Neji watch, telling her she did not need their help. However, Tenten calls her teammates for support when the leader of the group appears, but finds them resting. Though Tenten is able to defeat the bandits, she again reminds her teammates to be more considerate. However, one more her teammates fail to understand, angering her. In her anger Tenten leaves, but Lee calls out to her, saying they treated her in such manner because they knew she was strong. Tenten leaves no reply and vanishes.

...Read more
Random Character
"Might Guy"
Might Guy (

マイト・ガイ

, Maito Gai) is one of the main characters of the series. He is also the leader of Team Guy.

...Read more
Random Jutsu
Eight Gates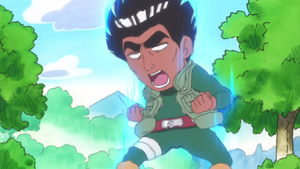 Eight Gates (八門, Hachimon) is a jutsu that releases limiters inside the body to access incredible power. There are eight stages, although the stronger the user becomes, the more dangerous.
Poll
Which is your favorite chapter of volume 5?
Narutopedia

Ad blocker interference detected!
Wikia is a free-to-use site that makes money from advertising. We have a modified experience for viewers using ad blockers

Wikia is not accessible if you've made further modifications. Remove the custom ad blocker rule(s) and the page will load as expected.