Rock Lee
Talk

1
422pages on Rock Lee's
Springtime of Youth Wiki
"
My goal is to become a great ninja without using Ninjutsu!!
"

—Rock Lee
Rock Lee (ロック・リー Rokku Rī) is the main protagonist of the series. He is a member of Team Guy.
Background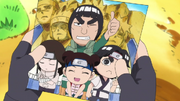 Rock Lee is a Chunin level Shinobi who can't use Ninjutsu or Genjustu, and instead focuses on taijutsu. As a result he has been mocked by his peers since his time at the academy, though Might Guy took a special interest in him. When he graduated the academy, he joined Neji and Tenten as a member of Team Guy.
During his time as a genin, Lee along with his teammates, took the Chūnin Exams. In the preliminaries of the Chūnin Exams, Lee was matched up against the once cold heartless Gaara. Lee met his defeat after Gaara crushed his left arm and leg. As a result, almost lowered his chance to continue on as a ninja. However, Tsunade healed his wounds, making him continue on his dream.
Appearance
Rock Lee has rounded, black eyes with promenent lashes and bears considerably thick eyebrows which earns him a variety of nicknames such as  "Centipede Brows" (ゲジマユ, Gejimayu; English TV "Bushy Brows"). His hair is styled in a bowl-cut fashion like Guy's. He wears white bandages on his arms which conceal a set of stitches on his left hand[1] and are also used in some of his justus.
Lee's typical attire consists of a green jumpsuit, orange leg warmers, a standard leaf village flak jacket and a red forehead protector which he wears as a belt underneath it.
Personality
Rock Lee is an enthusiastic and gutsy ninja that unforturnately cannot utilize ninjutsu or genjutsu so he solely works on improving his taijutsu, in which only requires physical exertion.[2]
In addition, Lee harbors a tremendous respect for his mentor, Might Guy.[2] He goes through great lengths simply for Guy to acknowledge him, as shown when he attempted to perform a variety of ninjutsu with the collaboration of Neji Hyuga and Tenten.[3]

Abilities
Lee is a shinobi who is only proficient in taijutsu, with no skill at all for ninjutsu, which is why he is infamously known as The Ninja Who Can't Use Ninjutsu (忍術の使えない忍者, Ninjutsu no Tsukaenai Ninja).
Taijutsu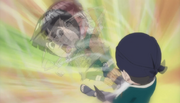 Due to his training with Might Guy, Lee is highly skilled with taijutsu. He was able to easily defeat an opponent with a single kick. He is also able to make out any technique he sees and make it his own as shown when he sees Might Guy's Morning Peacock and creates Morning Gorilla and Morning Chicken. Lee has shown physical strength and endurance as seen when he is climbing a building with three huge boulders strapped to his back.
Fake Ninjutsu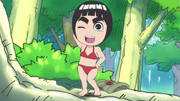 Despite not being able to use ninjutsu, Lee tries to create his own ninjutsu by using his taijutsu by imitating others or create his own.

Eight Gates
Through Guy's teachings, Lee has learned how to open at least the first five of the eight chakra gates. He was able to overwhelm Might Guy despite opening the sixth gate.

References
↑ Naruto manga; Chapter 38, page 13
↑ Rock Lee's Springtime manga; Chapter 1, page 14