Pac Lee

Kanji

パック・リー

Rōmaji

Pakku Rī

Characteristics

Gender

Male

Hair Color

Black

Eye Color

Black

Media

Anime Debut
Pac Lee (パック・リー, Pakku Rī) is an impostor of Rock Lee.
Background
It can be presumed that like Sock Lee, Pac Lee had no talent for ninjutsu and got inspiration from Rock Lee to become a ninja similar to him.
Appearence
Similar to Lee, Pac Lee has thick eyebrows and hair that is fashion in a bowl-cut. He wears a green jumpsuit, that goes up all the way to cover his mouth, with orange leg warmers. Over it, he wears a green flak jacket similar to the one's worn in the Konoha with a sash that has his name on it. He also wears white bandages on his arms.
Plot
Episode 20
After Lee's battle with the first Rock Lee imposter, Sock Lee, Pac Lee jumped in and made his introduction to Lee and his team-mates.
Trivia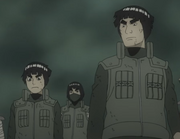 In episode 363 of Naruto: Shippūden, a shinobi resembling Pac Lee can be seen standing behind Lee and Guy.
Ad blocker interference detected!
Wikia is a free-to-use site that makes money from advertising. We have a modified experience for viewers using ad blockers

Wikia is not accessible if you've made further modifications. Remove the custom ad blocker rule(s) and the page will load as expected.