Mie

Kanji

ミー

Rōmaji

Mī

Characteristics

Gender

Female

Hair Color

Brown

Eye Color

Brown

Status

Affiliation

Konohagakure

Media

Anime Debut

Voice Actors

Japanese
English
Mie (ミー, Mī) is a young citizen of Konohagakure.
Background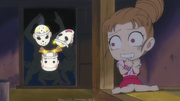 Mie lives with her father on the outskirts of Konohagakure. After her father borrows money from a group of people, Mie is terrorized by the debt collectors until her father pays them back.
Personality
Mie appears to be a polite and caring girl, offering tea to Team Guy after welcoming them into her house and showed concern for Lee after crashing into her house and being injured from the boss of the debt collectors. She also admires strong people as she was blushing after Lee defeated the debt collectors that were chasing her. Mie however hates being deceived, after hearing that Lee is a shinobi that can't use ninjutsu and kicking him and his team-mates out of her house.
Appearance
Mie has brown eyes and brown hair which is style in a bun, and freckles. She wears casual clothing, which is a dark pink vest with a bunny head pin, underneath a pink, short sleeved shirt with a skirt and sandals that has a similar colour to her vest. She also wears a pink bracelet on her right wrist.
Plot
Episode 1
Part 1: Rock Lee is a Ninja Who Can't Use Ninjutsu
Ad blocker interference detected!
Wikia is a free-to-use site that makes money from advertising. We have a modified experience for viewers using ad blockers

Wikia is not accessible if you've made further modifications. Remove the custom ad blocker rule(s) and the page will load as expected.