Mei Terumī (照美メイ, Terumī Mei) is the Fifth Mizukage (五代目水影, Godaime Mizukage; Literally meaning "Fifth Water Shadow") of Kirigakure.
Appearance
Mei is a slender woman in her thirties. She has green eyes, and ankle-length, auburn hair styled into a herringbone pattern at the back, a top-knot tied with a dark blue band, and with four bangs at the front. Two bangs are short, with one covering her right eye, and two are long, crossing each other on her bust, just below her chin.
She wears a long-sleeved, dark blue dress that falls just below the knees. It seems to be closed at the front with a zipper, and is kept open on the front-right side from the waist down. The dress only covers up to the upper part of her arms and the underside of her breasts. Underneath, she wears a mesh armour that covers slightly more of her upper body than her dress. She also wears shorts in the same colour as her dress and, underneath those, mesh leggings reaching down over her knees. Around her waist, she wears a belt with a pouch attached to the back on the left along with high-heeled sandals and shin-guards reaching up over her knees, dark blue polish on her fingers and toes, and is usually shown with dark blue lipstick.
Personality
Plot
Abilities
As the current leader of her village it is implied that she is strong.
Ninjutsu
Nature Transformation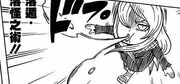 Mei is capable of using the earth, fire, and water natures, and has two kekkei genkai.
Her first kekkei genkai, by simultaneously using the earth and fire natures, allows Mei to use Lava Release ninjutsu, such as spitting out lava that can melt almost anything in its path.
The second kekkei genkai, by simultaneously using water and fire natures, allows her to use Boil Release ninjutsu, such as releasing a corrosive mist that can burn away almost anything it touches.