Hiruzen Sarutobi

Kanji

猿飛ヒルゼン

Rōmaji

Sarutobi Hiruzen

Characteristics

Gender

Male

Hair Color

White

Eye Color

Brown

Status

Occupation
Affiliation

Konohagakure Symbol

Rank
Family

Asuma Sarutobi (Son)
Konohamaru Sarutobi (Grandson)

Jutsu

Media

Manga Debut
Anime Debut
Hiruzen Sarutobi (猿飛ヒルゼン, Sarutobi Hiruzen) was the Third Hokage of (三代目火影, Sandaime Hokage) of Konohagakure. He is the father of Asuma and the grandfather of Konohamaru Sarutobi.
Appearance
Hiruzen would commonly wear the official uniform — consisting of the customary hat and haori, along with a red, full-length kimono that was tied using a white sash.
Personality
Hiruzen can be described as a peace-loving man who cared deeply about his village and the people living in it.
Abilities
As the Hokage, Hiruzen was undoubtedly a powerful shinobi. Though nothing much of his fighting style is shown in the spin-off, he was able to save Konohamaru from Orochimaru and Kabuto.
Nature Transformation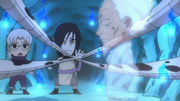 Hiruzen was capable of using Fire Release. He was able to create little blue fire balls and manipulate them to assault his opponents.
Ad blocker interference detected!
Wikia is a free-to-use site that makes money from advertising. We have a modified experience for viewers using ad blockers

Wikia is not accessible if you've made further modifications. Remove the custom ad blocker rule(s) and the page will load as expected.